As is our family tradition, the Mahoney clan retreats to a lovely resort each winter just before the turn of the new year. It's a boisterous, quiet, exciting, relaxing time, and easily one of my cherished times of the year, for a variety of reasons. All of which relate to the kind of experience we have while there.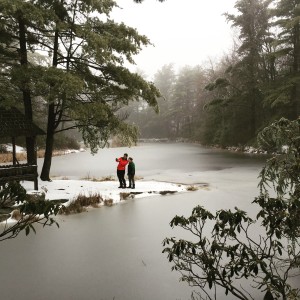 From the quick and friendly check-in at the gatehouse, to the meandering drive up to the main building, to the efficient and personable luggage and car attendants, to the truly phenomenal activity and dining staff, every member of the team is knowledgeable, professional, and anticipatory in their interactions with their guests.
But that's not really what sets them apart. In fact, at this level of resort, one might just expect things to be this way. What really sets this place apart is the consistency. It is apparent that the initial employee onboarding training is not simply one-and-done; rather, continuous education is an essential part of the employee experience. A shared mission and vision is created in alignment with what the original family founders described as their goals for creating their retreat, and it informs every part of how staff and guests interact with one another. This means that guest expectations have been created intentionally by the leadership.
How is this level of alignment achieved? It done by:
• Creating a vision for the ideal state of experience for all actors
• Establishing a mission that follows naturally from the vision
• Organizing staff recruiting, training and feedback to measure continuously
• Communicate, communicate, communicate
It may be this last element that is most critical. I often say that any monkey can create a survey, but not every monkey should. Creating a real experience management program requires much more thought and intent. All of the marketing material about our favorite resort reinforces the mission and vision. The booking site, and the resulting email messages, all follow suit. The pre-arrival note indicating where renovations were occurring, during which times of day, and the potential impact they may have on guests. The gentleman who brought our bags to the room made sure to not just welcome us by name and remember us from our previous visits, but he also made sure to mention when the Kids Klub would open for the afternoon session. He remembered how much our boys loved the ice skating in the pavilion.
This level of service goes beyond that which is typically enabled through one-time onboarding training and once-a-day pre-shift team huddles. If you want to do it right, follow the ICE paradigm (appropriate for a post in the midst of Snowpocalypse2016, no?):
1. Intentional
2. Consistent
3. Empowering
Following the mission and vision, create your employee onboarding and ongoing training and feedback loops so they reinforce one another. Trust is built, not hired, but hiring well means being clear on the vision and mission, and the role each teammate plays in making them real. Deliver timely, complete communications to your teams and your customers, closing the loops as quickly as possible with both the internal and external audiences. Allow your staff to be exceptional through ongoing training, formal and informal meetings, and by allowing them to take action when and where they need to.
Easy to write, often a challenge to deliver, tremendous to experience, and amazing the short and long term impact this strategy can have.