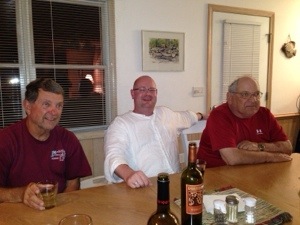 My father-in-law passed away yesterday.  He leaves behind his wife Lynn, two children, four grandchildren, a daughter- and a son-in-law, and friends and extended family across the country.
When I first met Tom, my wife and I had been dating for a couple of months.  Sarah had done a pretty good job of prepping me for this meeting.  She told me about the guy who had shown up for a date barefoot, about the facts that he was a football player in college and coached in the FPYC still, and he could be "tough" (her word) sometimes.  So, deep breath, ring doorbell… I can still see in my mind's eye just how engulfed my hand was by his.
Over the years, Tom grew to tolerate me, then trust me, and I think even like me.  Tom was like many of his generation, in that emotions were rarely shown and never discussed.  But as grandchildren came along, some of that predisposition shifted.  Where before he maintained a certain quiet begrudging attitude toward the world, his grandchildren made him smile, hug, say quiet, warm niceties (and mean them sincerely).
He left an impression on everyone he encountered, but most especially on his football players.  He played for four years at the University of Missouri, stayed on to help coach the Tigers and completed a Masters in English.  He returned to football when his son Michael was old enough to start out in "ankle-biters".  He and his friend would "recruit" players by driving around Fairfax, Virginia, scouting playgrounds for potential talent.  He found kids living well below poverty in one of the richest areas of the county, and convinced both they and their parents (just the mom was around, in most cases) that they should play on their team.  Tom and his wife Lynn would pony up for cleats and socks for some of them, and would run their cars all over Fairfax picking up and dropping kids for practice and games.  Later, and I think a singular point of pride for both Tom and his son, he was offered an opportunity to coach at Robinson High School, where both Sarah and her brother had graduated, but where Michael had also played.  Watching the two of them coach together most Friday nights during the 90s and the first part of the last decade was a study in passion, joy, frustration, pride and accomplishment.  Not only did some of those early "recruits" and players from Robinson become close family friends inviting the Hertz family to their weddings and baptisms, but they came out in droves to sit and visit with Tom as he became ill, revisiting and reminiscing about games, plays and training camp shenanigans that shaped each player.  To a man, they told Tom and Lynn how much they had been influenced by Tom, and how he became the standard for performance on and off the field they strove to emulate.
Tom impacted me in many ways that I'm aware of, and likely many more that I'll continue to discover.  What strikes me today is how Tom made decisions, and then followed them all the way through.  When offered the opportunity to coach at the collegiate level for a service academy, when he was asked to try out for an NFL team, Tom made the decision to go another way.  Growing up as the oldest son of a fairly poor family of farmers and educators in Iowa, Tom knew he wanted to have financial stability for his future family.  He spent his working life immediately after leaving Mizzou with Mobil Oil, earning greater and greater opportunities with each move, from Denver to Des Moines to New York City to Fairfax.  When he decided to quit drinking because he saw the potential impact it could have on his family, he made up his mind and did so.  And while a triple-bypass surgery may have been somewhat of an influence on his decision to quit smoking, once he did so he never went back.
Maybe it was growing up on a farm, working in the fields and silos.  Maybe it was all the years of playing and coaching football, seeing what hard work, consistent effort, careful study and planning yielded.  Maybe it was innate nature.  All I know is that for me, Tom's ability to make a decision, hard or easy, and follow it through all the way is a legacy I plan to emulate.
Rest in peace, Tom.  Tell Barry and Reilly-dog we send our love.